HOW TO HIRE A FITNESS COACH
Summer is around the corner. I know this is Seattle but you're still starting to feel the heat (maybe not literally). How are you going to hit your fitness goals on time when you aren't even really sure where to start. Good personal trainers are hard to find. Seattle personal trainers much like any city have a varying level of skill, experience, and charisma. My goal in this blog is to teach you how to find a personal trainer as if you were shopping in my city for Seattle Personal Trainers.
Where do you even start?
Alright lets set this off with Step 1: If you're like most people you end up on google or yelp you look for what's closest to you or your job. Location is important criteria to determine whether or not something is feasible for you logistically considering your schedule and how often you plan on meeting your Personal Trainer. Depending on where you live you might consider something on distance or how long it will take you to get there when you plan on training. Make sure you consider all the time for to and from the gym as well as the time spent working out. If going to a trainer near your job makes more sense because it will help lighten the traffic near you before heading home you might more heavily weight a trainer near your job. If time isn't a huge constraint for you might put more emphasis on the following suggestions.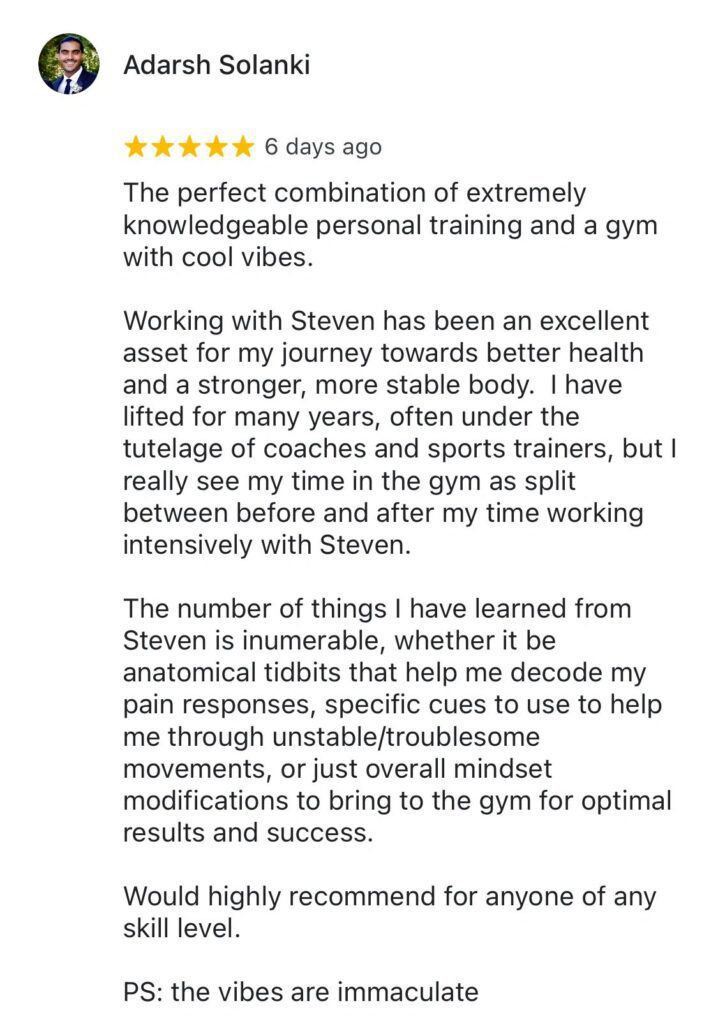 Step 2: Once you've filtered down based on location personally I would see how many reviews this business/personal trainer has and the quality/depth of the reviews. Do the reviews trickle in or do they happen at some sort of regular frequency? How much do these reviews reflect the values that you find important? Personally I feel that a referral may carry a bit more weight than a single review, however if you are comparing personal trainers I would say still compare this trainer to how they stack up locally.
Step 3: Now lets say you have found a trainer in your are (or not) and they seem credible given the reviews and referrals, we are next going to examine their activity. I'm of the school of thought that how you do one thing is how you do everything. Someone who is truly passionate about educating others, constantly expanding their own knowledge, friendly, entertaining, will likely have some way of showcasing that. Take a look at their website. Do they write a blog? You like it? Give them a point. Podcast? Listen to it. If it's any good give them another point. Do they have social media you can check out? Investigate! Look, this is someone you're going to see likely as often as you're going to see just as much if not more than you see most of your close friends. You're going to want to like this person and feel that they align with who you are now or who you would like to become.
Step 4: Credentials. I think its important that who ever you decide to work with is constantly continuing their education. It's one of the major criteria which on which I decide who to hire as personal trainer here in Seattle. Yes, I want them to be fun, empathetic, and positive but you also want to make sure they can get the job done.
In Summary: Hire someone you feel you know, like, and trust. You want to be able to consistently make it to session on time without the stress that it will impact other aspects of your life. You want this person so be to be well reviewed, referred, credentialed, and align with some of your personal viewpoints.
Hope you find the trainer you're looking for. Also, I'd recommend checking us out if you're looking for a Seattle Personal Trainer. I know I'm a bit biased but don't take my word for it, check out our reviews 😉
Big Love,
Steven Davis (Owner of Davis Fitness Method in Seattle, Wa)